NOAA NCTR research product
Not an official forecast
5th Anniversary of Indian Ocean Tsunami Marks Significant Progress
Media contacts:
NOAA Public Affairs Monica Allen - 301-734-1123
NWS Public Affairs Susan Buchanan - 301-713-0622
When using information from this page, please credit NOAA / PMEL / NOAA Center for Tsunami Research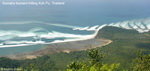 Sumatra tsunami hitting Koh Pu, Thailand, Dec. 26, 2004. Image provided by Anders Grawin (grawin@grawin.com).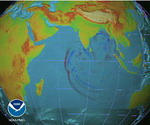 Model Simulation Result
References:
WHF Smith, R Scharroo, VV Titov, D Arcas, BK Arbic (2005): Satellite Altimeters Measure Tsunami.

Oceanography

Vol.18, No.2, June 2005. Download: PDF
The altimetry data is courtesy of Remko Scharroo (Remko.Scharroo@noaa.gov) and Water Smith (walter.hf.smith@noaa.gov), NOAA, Laboratory for Satellite Altimetry, Silver Spring, MD, USA.
Satellite Altimetry Database System at the Department of Earth Observation and Space (DEOS) Systems of the Faculty of Aerospace Engineering at Delft University of Technology, the Netherlands.
Bottom Pressure Recorder(BPR) Data
14 days of 15-second bottom pressure and temperature data (~80k lines each)
DART (Deep-Ocean Assessment and Reporting of Tsunamis) - Buoys for early detection and real-time reporting of tsunamis in the open ocean.
Other Sources of Information:
Need a file viewer/reader?